North Florida Olive Field Day – 2019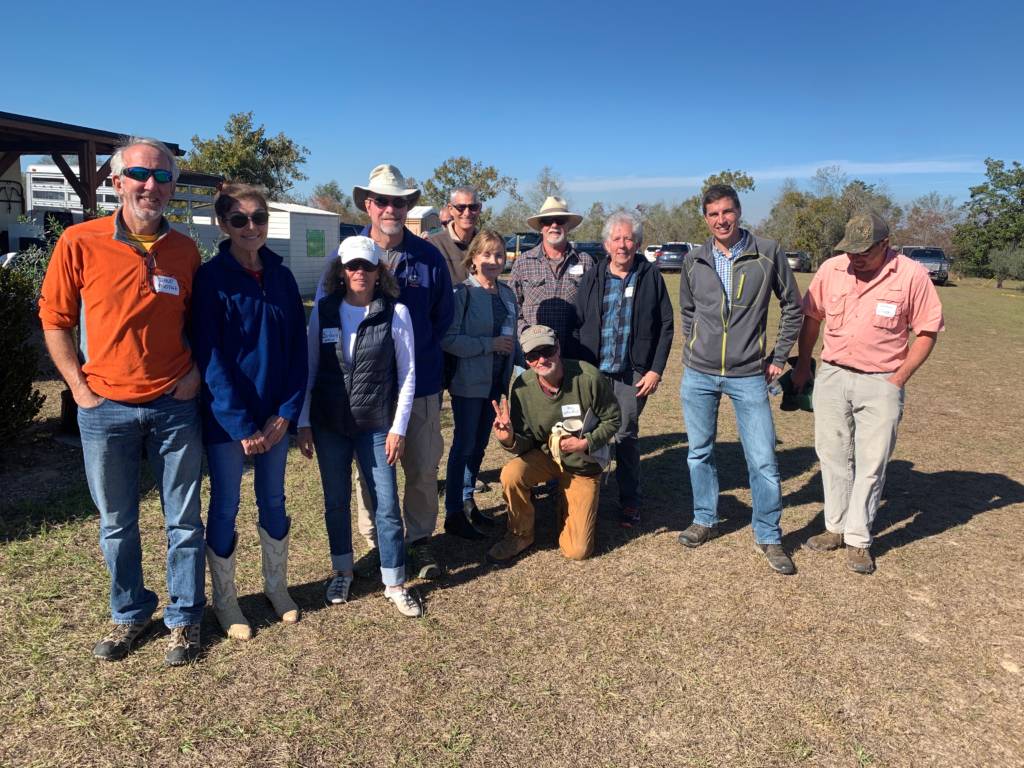 The Florida Olive Council, LAA and the Greengate Olive Grove hosted the 2019 North Florida Olive Field Day November 20 near Marianna, FL.  The program included presentations by Florida olive growers and academics from UF/IFAS.   Aurelien Rifaut, of EU corp Agrigrada, having recently installed a 4,000 acre hight density olive grove near Colquitt, GA (40 miles north of Tallahassee), presented details of the project. Our hosts, David and Sally Gist, owners of Greengate, provided a most enjoyable lunch and an olive oil tasting.  We want to also thank our sponsors:  Florida Olive Group (Nursery Stock and Oil/Vineger) and Pieralisi, olive mill manufacturer.
PLEASE JOIN THE FLORIDA OLIVE COUNCIL!
If you are NOT a member of the Florida Olive Council, please JOIN by clicking HERE.    Take advantage of special research reports, information on upcoming events and discounts.   We are a Florida registered non-profit corporation.  Donations are tax deductible under IRS 501(c)(3).
Below find links to event presentations and other documents.
Presentations:
Aurelien Rifaut, Agrigrada Corporation (will be posted in a few days)
Dr. Glenn Aiken, Director, UF-IFAS North Florida Research and Education Center
Julie McConnell, UF-IFAS Horticultural Agent
Michael O'Hara Garcia, Overview of 2020 Florida Olive
Tom Oleson, Florida Olive Grower – St. Johns County
Dana Venrick, Florida Olive Grower, Volusia County
Eleanor Phillips, UF-IFAS Entomology Department
Myles Albritton, Manager, Hardee County Research Farm
Documents:
2019 North Florida Olive Field Day Program
---
We need your help.
The Florida Olive Council is a non-profit organization certified under Federal tax code 501(c)(3) and Florida statutes Chapter 617.  We are supported by your contributions.  Ninety-five (95%) of your donation goes directly to supporting olive research.  Our directors and officers receive no salary or other compensation.   Click HERE to donate.
If you would like to know how your donations are used,  please visit our Research Projects page.