Climate Change and Olive Flowering
In 2017, Michael O'Hara Garcia and Tomas Mueller Pollmann were invited to present the Florida Olive Council's work on low-chill olives for southern Florida.  The venue at the University of Andalusia (Spain) hosted 30 speakers from six countries to address the effects of climate change on olive production.
Despite the poor quality of the graphic below, one can see the significant drop-off in flowering as temperatures rise.  Basically, after a 2 degree increase in winter temperatures, production drops off as much as 20% in some cultivars.  Only three popular Spanish cultivars were tested in this particular experiment.  There are at least 25-30 cultivars in common use in Spain.   Spain is the world's largest producer of  olive oil.  Climate change threatens long term production.  During the conference, academics from several countries presented their latest research on the impact of climate change on olives. Click here to find academic papers presented at the conference.  Click here and find a list of conference attendees and contact information.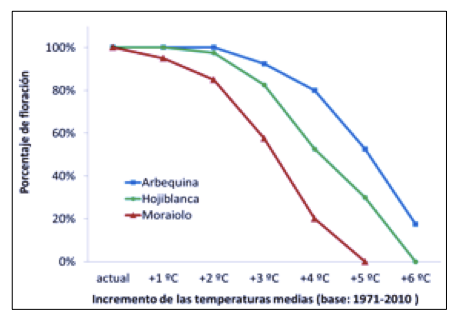 ---
We need your help.
The Florida Olive Council is a non-profit organization certified under Federal tax code 501(c)(3) and Florida statutes Chapter 617. We are supported by your contributions. Ninety-five (95%) of your donation goes directly to supporting olive research. Our directors and officers receive no salary or other compensation. Donate