North African Varieties for Low Chill Research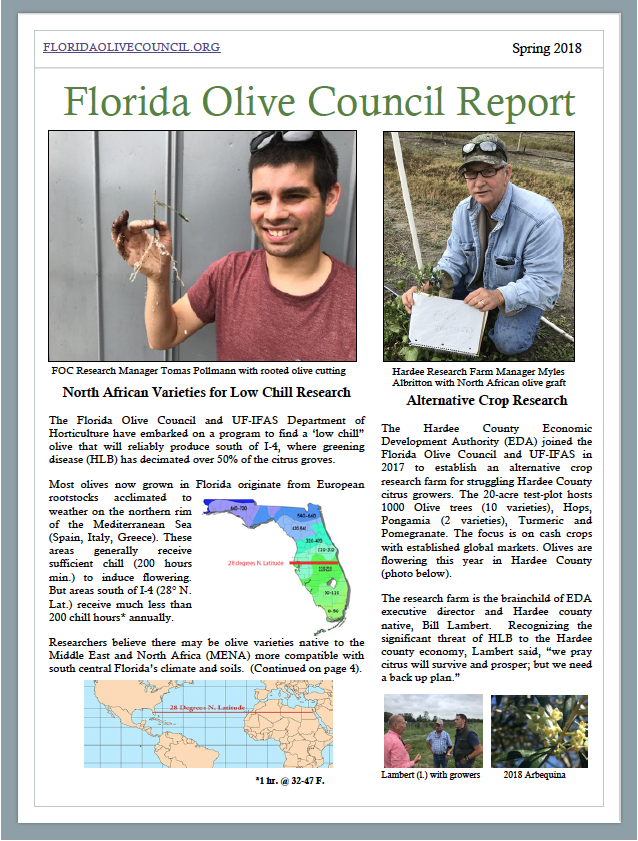 Most olives grown in Florida originate from European root-stocks.  These cultivars are acclimated to the weather on the northern rim of the Mediterranean Sea (Spain, Italy, Greece).  These areas generally receive sufficient chill (200 hours min.) to induce flowering.  Areas south of 1-4 (28 degrees N. Lat.) receive less than 200 chill hours* annually.  The Florida Olive and the UF-IFAS Department of Horticulture embarked on a program to find a "low chill" olive that will reliably produce south of 1-4 where greening disease (HLB) has decimated over 50% of the citrus groves.  Researchers believe there may be olive varieties native to the Middle East and North Africa (MENA) more compatible with south-central Florida's climate and soils. Click here to download.
Florida Agriculture News – March 2021 – Are olives the new Orange for Florida?
---
We need your help.
The Florida Olive Council is a non-profit organization certified under Federal tax code 501(c)(3) and Florida statutes Chapter 617. We are supported by your contributions. Ninety-five (95%) of your donation goes directly to supporting olive research. Our directors and officers receive no salary or other compensation. Donate