Michael O'Hara Garcia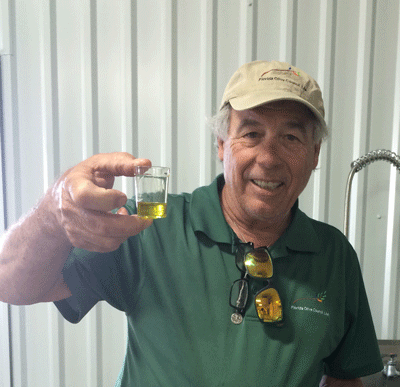 Michael O'Hara Garcia is President of the Florida Olive Council, a not-for-profit agricultural research and advocacy organization he created in 2011 to foster development of a sustainable and profitable olive industry in Florida.
Prior to establishing the Council, he served for 10 years with Cisco Systems as Strategic Account Manager for Federal and State/Local government operations. He led Cisco's response to Hurricane Katrina and fostered development of land mobile radio interoperability for law enforcement.
After a 20-year career, he retired from federal service as Senior Technology Advisor to the U.S. House of Representatives Committee on Government Reform. In this capacity he advised the Chairman and Members of Congress on technological innovations and Internet-based best practices for federal agencies.
Prior to his Congressional appointment, Mr. Garcia served as Speechwriter for the Secretary of Commerce and Chief Information Officer at U.S. Department of Commerce's Minority Business Development Agency. In 1997, he assembled and led a team creating the first "virtual agency" matching GSA and defense contracting opportunities with over 40,000 U.S. minority-owned businesses via the Internet. The U.S. Secretary of Commerce presented Mr. Garcia with the Silver Medal for Excellence in Technology Innovation.
In the 1980's, Mr. Garcia served as Chief of Program Evaluations and as a Communications Analyst with the United States Information Agency Office of Research conducting media and foreign public opinion studies worldwide.  During his tenure at Office of Research, Garcia conducted studies in Latin America, the Middle East and Asia.
Seconded from USIA, he served as Visiting Fellow at the Center for Strategic and International Studies (CSIS) during 1991-1993. In this capacity, he directed public diplomacy projects fostering independent media development in Central and Eastern Europe. At the beginning of his federal career, Mr. Garcia served as a Technical
Director for Communications at the David Taylor Naval Research Center.  During is tenure he transitioned the organization from film to digital imagery.
Prior to joining David Taylor, Mr. Garcia worked as a scientific photographer with the University of Florida's Institute of Food and Agricultural Sciences. In the 1970's he owned and operated retail stores in Washington DC, Boulder, CO  and worked as Road Manager for Stephen Stills of the musical group Crosby, Stills and Nash. Mr. Garcia owned and operated the Incredible Plant Store, a wholesale and retail plant nursery, and legume seed operation for six years in Gainesville, FL during the late 1970's. In cooperation with Dr. Albert P. Lorz, a UF-IFAS plant breeder, Garcia grew Zippercreme® and Floracreme® cowpea (Vigna unguiculata L.) while researching sustainable cattle nutrition options. During the 89th Congress, Mr. Garcia served on the staff of Senator George A. Smathers of Florida.  He is the author of several publications on international communications and foreign affairs.
Mr. Garcia served as a Combat Photographer with the 101st Airborne Division in Vietnam 1968-1969. Other posts included Team Leader with the Multinational Force and Observers (Egypt), the Walter Reed Army Institute of Research, the 20th Special Forces Group (Airborne) and the National Ground Intelligence Center. After a 26-year military career, he retired as Senior Advisor to the Commander, Reserve Element of the Joint Forces Intelligence Command, Norfolk, VA. During his service, Garcia was awarded the Bronze Star, Distinguished Service Medal, Army Commendation Medal, Vietnam Service Ribbon (4 campaigns), Combat Infantry Badge and Parachutist Badge and the Good Conduct Medal.
Garcia is a native of Tampa, FL and holds degrees in Communications and Management from Florida International University, the University of Florida and Georgetown University.  He is married to Barbara R. Klein of New York City and Southampton, NY.  He currently resides in St. Augustine, FL.
---
We need your help
The Florida Olive Council is a non-profit organization certified under Federal tax code 501(c)(3) and Florida statutes Chapter 617. We are supported by your contributions. Ninety-five (95%) of your donation goes directly to supporting olive research. Our directors and officers receive no salary or other compensation. Donate