Don Mueller
Don Mueller, a retired engineer,  is considered the godfather of  modern Florida olive cultivation. During a romantic trip to Italy in 1997 with his lovely wife Janet, Don stayed at a small hotel set in a rural olive grove.  During harvest, the grove owner offered Don and Janet some fresh-from-the-press olive oil drizzled on crusty Italian bread….they were hooked.  Upon returning from Italy, Don set out to find a suitable piece of land near his home in Panama City, FL.  He located and cleared a 5 acre piece near Marianna, FL.  After purchasing olive trees from California, he established the Green Gate Olive Grove  in 1999.
Over the years Don has lovingly tended his five acre grove and now has mature olive trees producing fruit.  Don selected varieties from Spain, Italy and Greece including: Ascolana,Frantoio, Leccino, Maurino, Arbequina, Coratina, Kalamata, Mission and Manzanilla.    With the exception of Arbequina, all other varieties produce large fruit suitable for olive or table. Don entered his olive oil in an international competition and won a gold medal.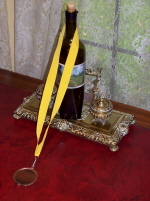 After several years of careful cultivation, Don's olives began to bloom and produce.  He needed way to make olive oil and drew upon his engineering expertise to build a custom olive mill in the grove barn.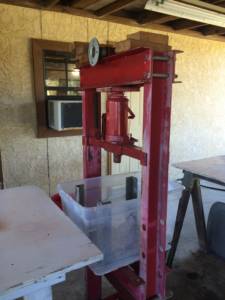 Using an old vertical shop press and some home-made utensils, Don built an olive processing "line" that received olives from the grove on one end and rendered olive oil at the other.  Don used a commercial grade under sink garbage disposal to grind the olives (pits and all) into a paste, often called Pâté.  The Pâté is placed in a stainless steel bucket for malaxing; a process which helps break down the cell walls in the Pâté and release a droplet of oil.  Don uses a commercial food grade paddle modified to fit on an electric drill.  After malaxing, the Pâté is placed between sheets of cloth and put in the shop press.   A few strokes of the jack handle, and presto!  fresh olive oil.
In 2017, Don sold the grove to Sally and David Gist.  Sally and David continue to care for the grove and are currently producing fruit and oil.  Each year the grove website announces a day for U-pick at the grove.  If you want fresh Florida olives, visit the grove and pick your own.
20 Ton Shop Press